Experiential Learning – What is it?

Experiential learning is learning through doing. It is a process through which individuals construct knowledge, acquire skills and enhance their values through direct experience.

Adventure-based experiential leaning is powerful; with immediate effect in terms of this process. Learning occurs when certain challenges compel participants to reflect upon activities critically and derive some useful insight into their character strengths or deficiencies. It encourages self-cognizance.

What will my staff, colleagues or participants gain from it?

Show me and I may forget,
Teach me and I may learn,
Involve me and I will remember

..so goes the proverb.

The Everest Challenge™– What is it?

The Everest Challenge ™ is a series of low level and spectacular high level challenges and activities modeled with a ' climbing your summit' theme conducted at a certified high-ropes course in Singapore. It can be presented as a 1 or 2 day "expedition".

Participants form an "expedition" team preparing to climb their personal Everest. The Everest Challenge™ is a unique programme devised by Everest Business Consulting, a leading Singapore motivational and leadership consultancy.

A pre-expedition plan and briefing will lead to increasingly challenging activities and problems as a " march in" that precedes the "climbing" the peak. Team members will face fear and overcome it; solve puzzles which will lead their team members to safety or to the next high "camp". Ultimately, team members will "summit', descend and celebrate in triumph with their new-found insights and experiences.

Optimal team size: 15 – 30

Organisations can include Everest Challenge™ as part of

-multi-day conferences
-long-term management and staff orientation programmes
-team-building programmes
-regional corporate bonding summit meetings
-special programmes

At the end of the Everest Challenge™, participants will:

- overcome mental blocks and tasks perceived as impossible
- understand the importance of a shared success vision and teamwork
- discover confidence in leadership roles
- be able to better apply key learning points to help them be better at their jobs
- find better ways to communicate amongst themselves
- feel energised from overcoming their deepest fears
- enjoy greater bonding with each other and understand the value of such esprit de corps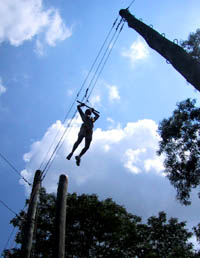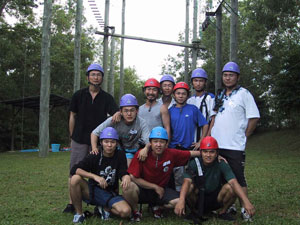 A Winning Summit Team!
How is the Everest Challenge™ different from similar programmes?

The Everest Challenge™ is different in two key aspects: Transference and Experience. A pre-event briefing allows us to customise a programme to focus on key needs where the experiential learning can be transferred to the participant's professional work. We take into considerations all aspects including key corporate issues, staff concerns, safety matters and suitability of the challenge components. In short, we work to make the participants' " play to learn" expedition a success in making them remember valuable lessons which they can apply to their lives and theri workplace. This is the essence of successful transference. The Challenge in it various forms is often a key part in serious teambuilding programmes.
The combined leadership and training experience of not one but TWO Everest mountaineers; certification in high ropes challenge courses and more than two decades of leading at the edge make the Everest Challenge the only course of its kind in Southeast Asia.
For more details, call us now at:
Tel: 65-67764531, Mobile: 65-97492076
Or email us at any time and let us help you climb your Everest!