About David Lim:

David Lim, 40, is best known for leading the landmark 1st Singapore Mt Everest Expedition in 1998 which succeeded in placing two members on the summit. The climb changed national perceptions of what people from a small, flat tropical island could achieve. Educated at Magdalene College, Cambridge University, David left a career in Law to pursue one in media and communications; spending nearly a decade in the realm of publishing and multimedia.

A veteran of over 50 alpine climbs and Himalayan expeditions , a decade of serious climbing has seen him leading expeditions and climbs to the French, Swiss and New Zealand Alps, Tibet, India, South America and Nepal. In 1997, he led an expedition to and summitted Cho Oyu (8201m), the world's 6th highest peak.

A week after his return from the 1998 Everest expedition, David contracted the rare nerve disorder, Guillain-Barre Syndrome. The syndrome paralysed him completely and he spent six months inside a hospital. It took a year after his discharge to return to the mountains once again. Climbing as a partially disabled person, he successfully made the first all-Singapore ascent of Aconcagua, the highest peak in the Americas, in February 2000. This paved the way for his return to Everest in 2001 where he led the Singapore-Latin American Everest Expedition.

David is sought-after speaker and educator, and travels internationally; delivering keynote presentations on the power of dreams, overcoming the ' impossible' and transforming good teams into great teams. He is an educator in the field of team dynamics and leadership. David is accredited in numerous quantitative psychology instruments that are often combined in his interactive team-building and leadership programmes.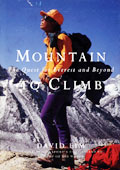 David's personal account of the Everest years and his struggle with Guillain-Barre Syndrome is recounted in Mountain To Climb: A Quest for Everest and Beyond, published in May 1999, and in Against Giants,published Dec 2003

David has been featured numerous times on BBC North, BBC's Radio 5, Singapore International's radio service, national radio,TV stations and CNN; and extensively profiled in national newspapers such as The Sunday Times and numerous periodicals. His comeback story made the cover of the Readers Digest magazine in Aug 2001 and was translated subsequently into eight different language editions.

David was also a main feature in documentaries such as:


CNBC Asia's "Driven",

Channel News Asia's "At Home With",

Channel News Asia's " Tonight In Person"

and Bloomberg Television News