LIFE WITHOUT LIMITS!
Everest Business Consulting specialises in customised motivational presentations, team-building, motivational and leadership programmes. Established by celebrated corporate motivator, educator and mountaineer David Lim, the Everest Business Consulting team works closely with its clients to achieve a shared success vision.
David's programmes and presentations combine lessons of leadership at the edge and effective methodologies to achieve client outcomes. Since 1999, David has presented to thousands, and more than 200 audiences worldwide.
The Everest Business Consulting team provides unique insights into leadership, developing passion at the workplace, improving team morale and overcoming obstacles. The team includes accredited trainers in workplace profiling, experiential learning and cognitive-behavioural skills.
David has led over 50 major expeditions and climbs, including two to Everest.In 1998, he survived total paralysis from the rare nerve disorder Guillain-Barre Syndrome, and now continues mountaineering as a partially disabled climber.
Share his message of LIFE WITHOUT LIMITS .
For samples and benefits of our team building programmes and 360-feedback elements
Nov 2004 News and Events:

We are now corporatised under Everest Motivation Team Pte Ltd . with a new team, and focus on motivational speaking, corporate, teambuilding and coaching programmes. Go to the new website for the latest post-Nov 2004 programmes and information
People Are Saying:
Thank you so much for an unforgettable and life changing experience.I think I have walked away from the Everest Challenge with a special learning experience that I can reflect on many times over and apply to my life for many years to come...I am grateful for having had the opportunity to participate in this event.Thank you again for making this event possible.
Veronica G., American Association of Singapore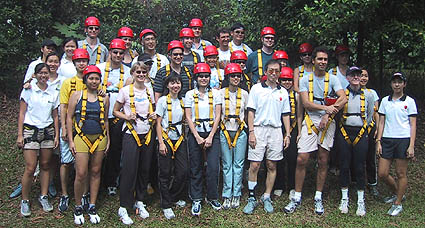 Members of Connexions and the American Association participating in The Everest Challenge: Finding the Balance; a personal development programme.
Get Your Free Leadership newsletter: Life Without Limits
Each month, the newsletter delivers valuable leadership and team performance skills to subscribers. Get your FREE monthly motivational and media newsletter NOW by subscribing toLIFE WITHOUT LIMITS or email :

Read previous articles on teambuilding and personal development!
Everest Challenge is an outdoor, adventure experiential learning programme ideal for incentives, staff and management training objectives as well as corporate meetings. This is a programme unique in its contents and facilitated by certified trainers who are Everest climbers - we walk the talk. Packed with thrills, learning experiences and a terrific way for teams to bond, go to Everest Challenge and climb your Everest!
I Made It!

Taking the Leap of Faith ( right ), one of the most challenging components of the programme